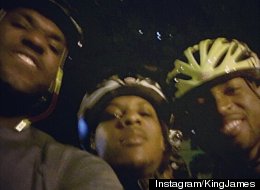 Huffington Post:Sun Sentinel  |  By Shandel Richardson
MIAMI — LeBron James at some point lost count.
Actually, he never started keeping track. At some point this season, he occasionally began riding his bicycle to practice instead of driving.
Then it turned into riding to morning shootarounds.
And then games.
Suddenly, James was spending more time on the bike than driving around in expensive cars. The added conditioning is why he seems to have no problem logging 42 minutes in the most routine of games. That was James' stat line in the Heat's 103-92 comeback victory against the Minnesota Timberwolves Tuesday at AmericanAirlines Arena.
Check out Lebron and Dwyane Wade at Miami's monthly Critical Mass ride: